Teaching Materials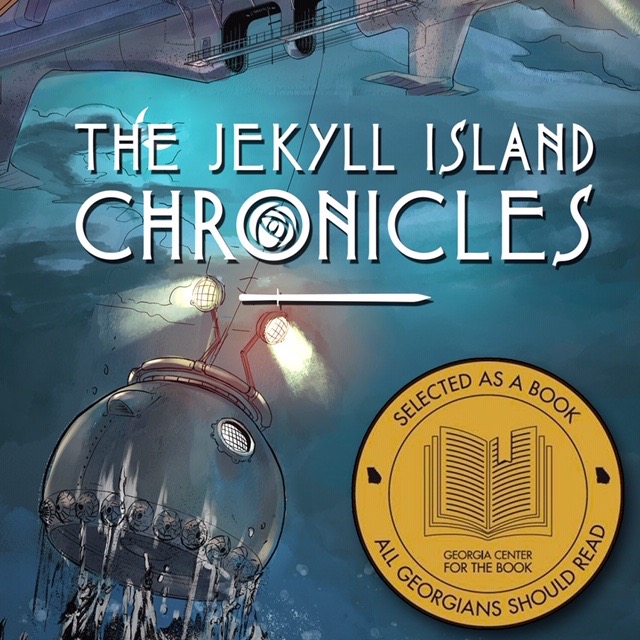 The Jekyll Island Chronicles is ready for your school and has all you need to bring this resource into the classroom! Our award-winning trilogy was named one of the Top Books All Young Georgians Should Read for 2017, has been lauded by both teachers and students, and has been nominated in 2022 by the Georgia Social Studies Association as a Program of Excellence. Educators are finding JIC to be a great way for middle and high schoolers to learn history or literature, as well as explore their own imaginations. Teachers can download both our Teacher's Guides for all three books and the appropriate classroom black line pages for students FREE OF CHARGE below. These materials were compiled in conjunction with the Comics in Education organization and are ideal for teachers of history, social studies, and literature.
In addition, many teachers are able to incur large bulk discounts from their school system's book distributors when they purchase copies of The Jekyll Island Chronicles. Check with your school's administrators to see how you can save money when you order books.
We are proud of our track record that shows there is much to learn from The Jekyll Island Chronicles and are delighted that students of various ages can now be taught from this curriculum!
Jekyll Island Blackline Masters.pdf
Jekyll Island Teachers Guide.pdf
Jekyll Island Teacher's Guide, Vol. 2 -- Final Draft.pdf
Jekyll Island 2 Blackline Masters -- Final Draft.pdf
Jekyll Island Teacher's Guide, Vol. 3 -- The Final Draft (version 1.0).pdf