What is The Jekyll Island Chronicles?
The Jekyll Island Chronicles is an original, award-winning graphic novel series from worldwide powerhouse, IDW Publishing. Blending bizarre and often forgotten historical fact with heavy doses of alternate history and adventure, The Jekyll Island Chronicles has now been acclaimed on both sides of the Atlantic, and has become known as a unique saga that can be enjoyed by both teens as well as adults. Featuring retro sci-fi design, the series vividly captures the period following WWI, injecting real villains, historic characters, original heroes, and exotic locales into a narrative that both entertains and teaches. Quite simply, The Jekyll Island Chronicles is not like anything else on the market.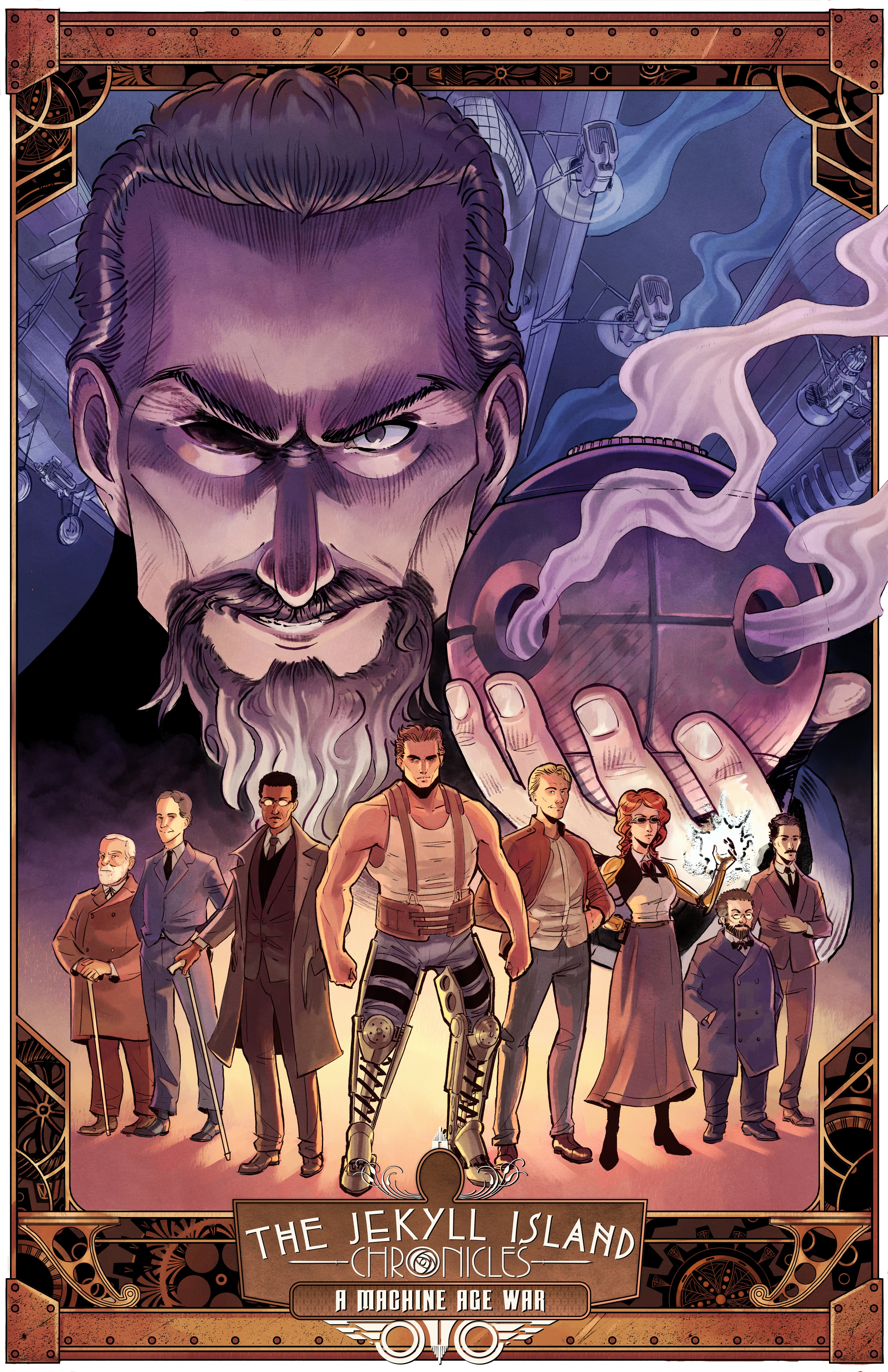 Book One, A Machine Age War, opens the story in the days following The Great War – a time when a brief glimmer of peace and hope quickly fades as a cryptic organization moves to threaten fragile governments and their people with a campaign of chaos and terror.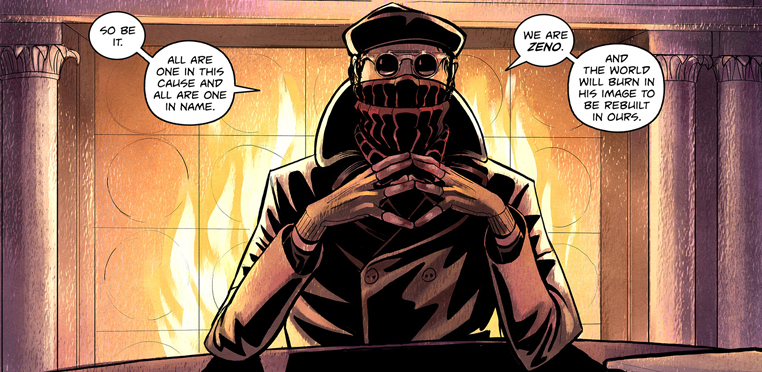 As anarchy rises, one nation's industrialists move to build an answer. What they assemble are physically scarred, broken men and women who have already sacrificed, but who haven't surrendered; people who only need their bodies repaired – and perhaps improved – to mirror the strength in their spirits. Together this strange combination of the wealthy, weary and willing brings new heroes to the fight and gives the world a fighting chance.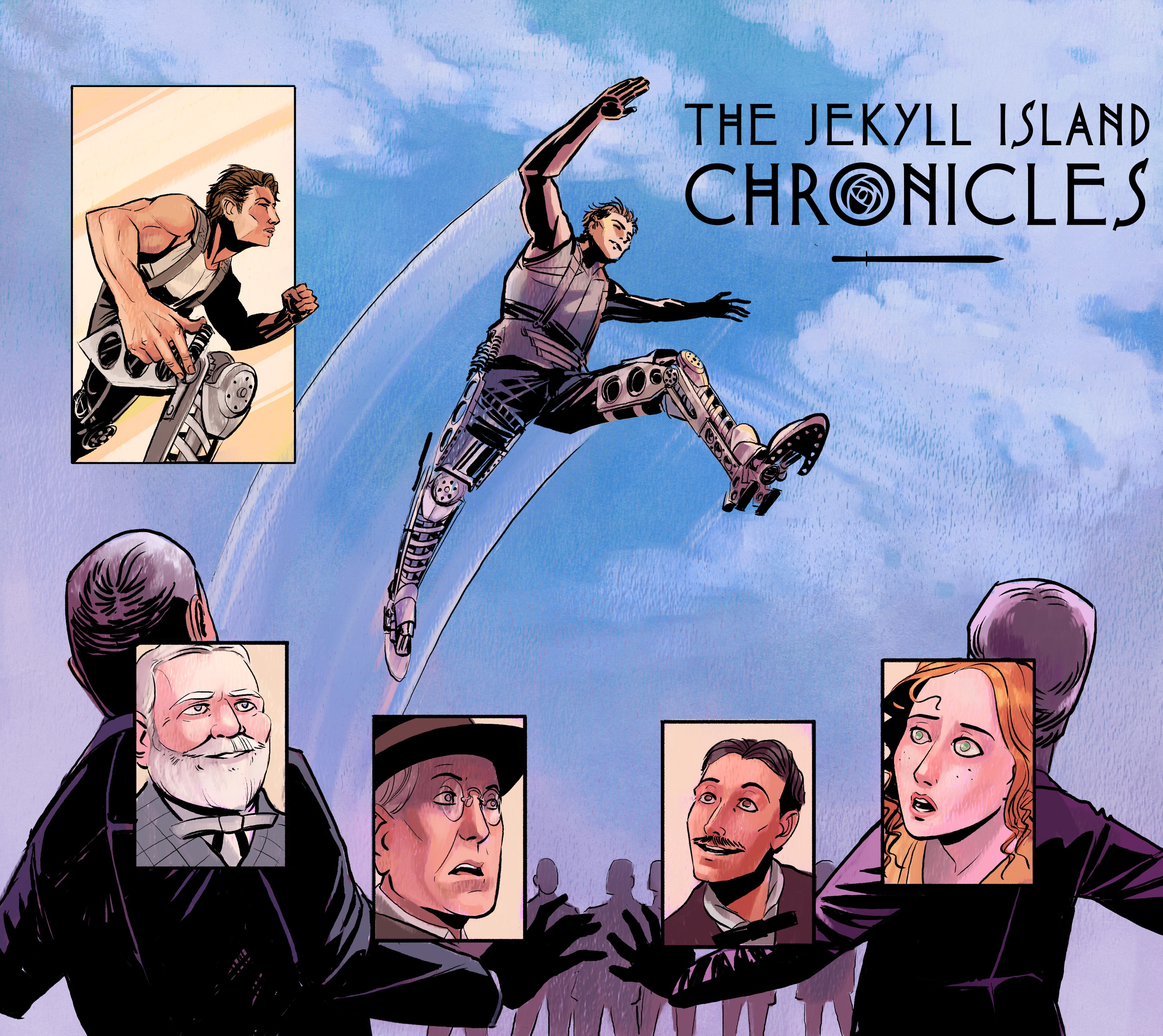 Scattered with historic characters like Nikola Tesla, Andrew Carnegie, and Luigi Galleani (among many others), this saga is filled with references to actual fact and weird history. It's all here: the trenches of the Great War, the social and political upheaval of the age, and the technology that enables masterful inventors to craft a one-of-a-kind fighting force that is equipped to take on the onslaught of anarchists that are bent on unbalancing an already fragile world.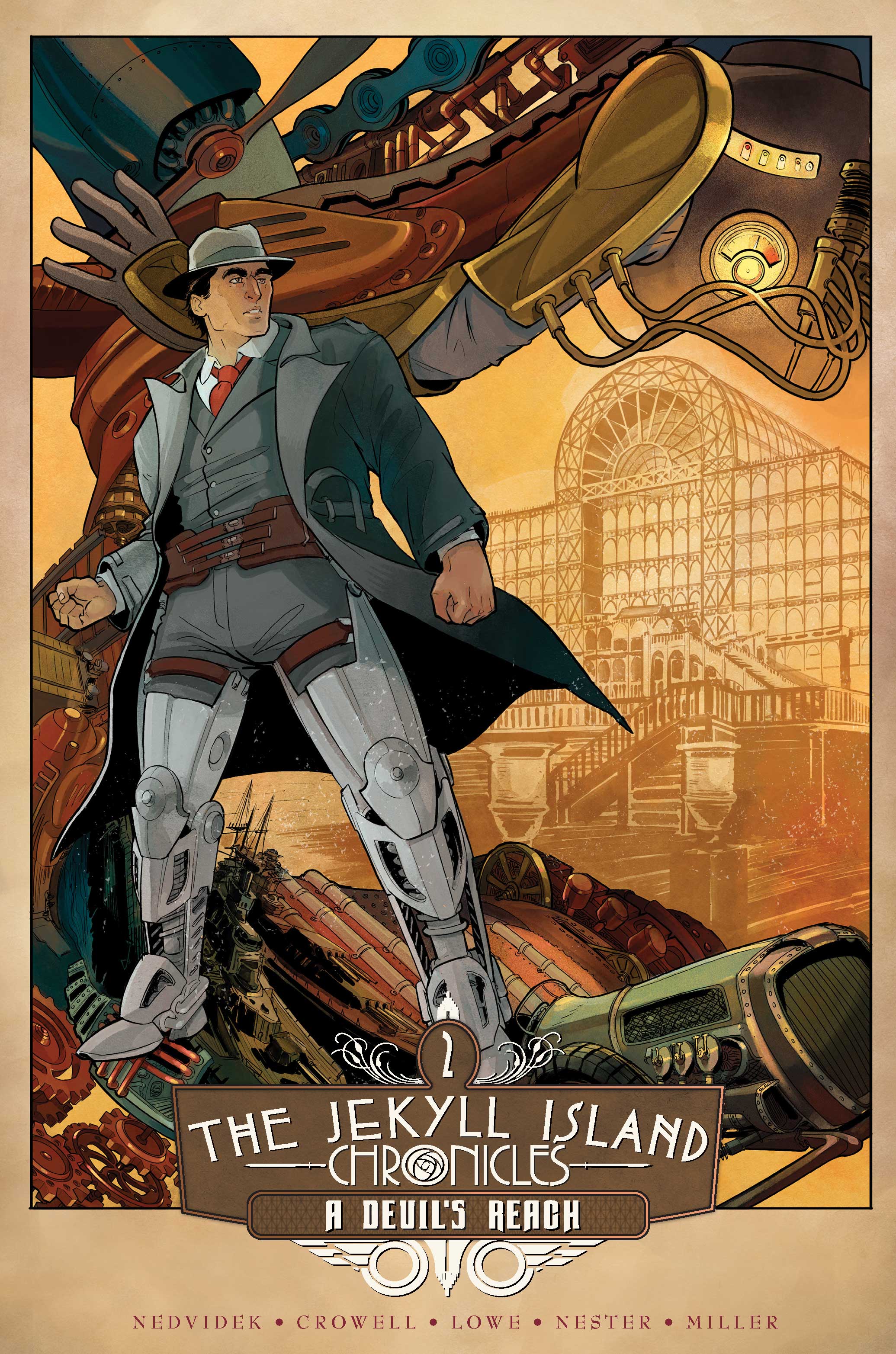 The battle continues in Book Two, A Devil's Reach. As the United States grows weary of terrorism caused by the evil cabal, the villains seize an opportunity – to rebuild its army, steal plans for a top-secret weapon (designed by Tesla, no less!), and persists to destabilize a frail world.
But our heroes are in close pursuit, with their own new resources to give them a fighting chance.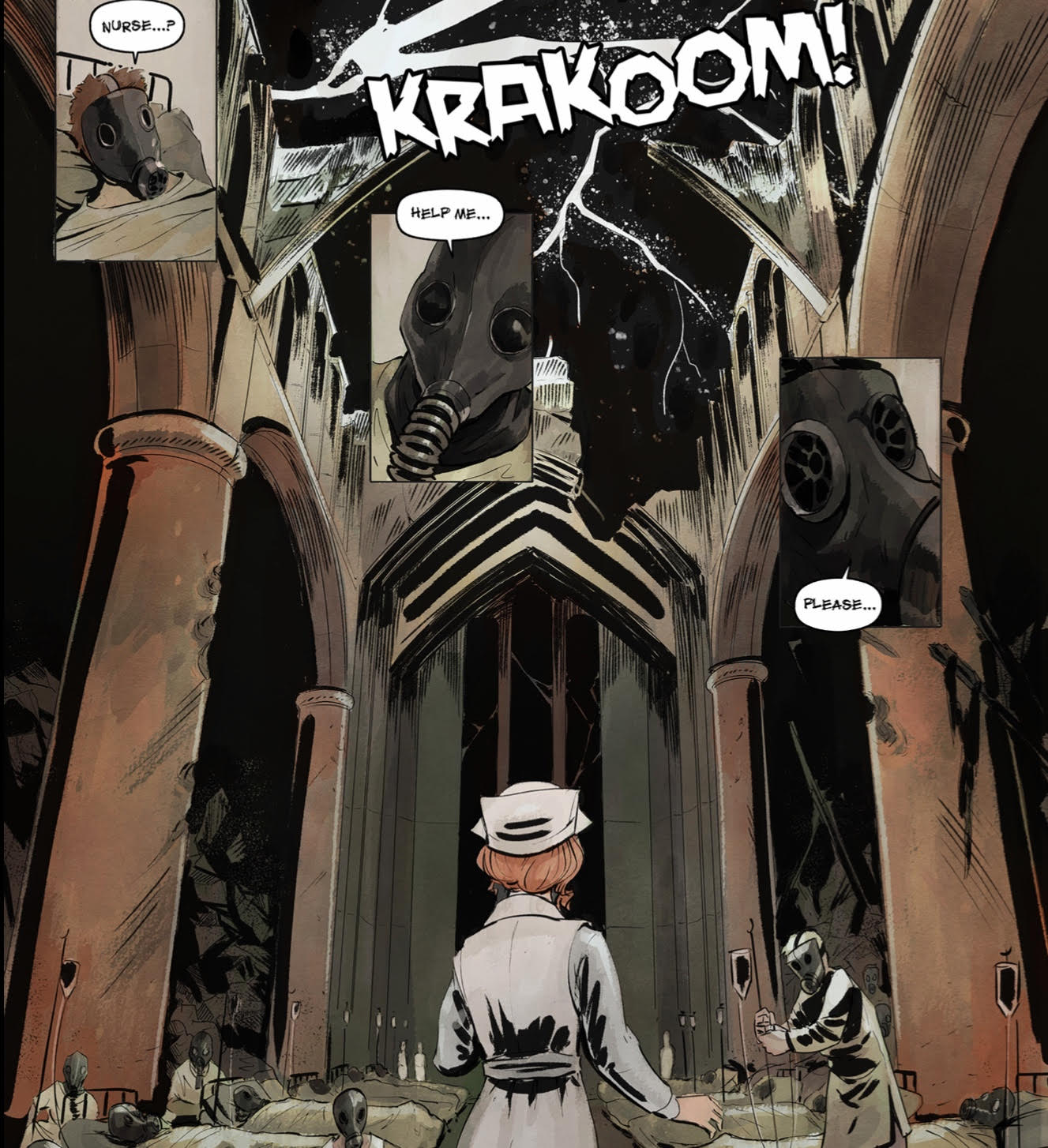 Book Two continues its trek around the world, with many of the action-packed scenes taking place in grand cities like Athens, Cologne, and London and introducing a new set of heroes in the form of a group of spies, known only as The Restoration. Picking up where Book One left off, the story doesn't let up for a second and positions itself nicely for the conclusion of the trilogy which is slated for summer 2021 and an exciting debut at Comic Con in San Diego.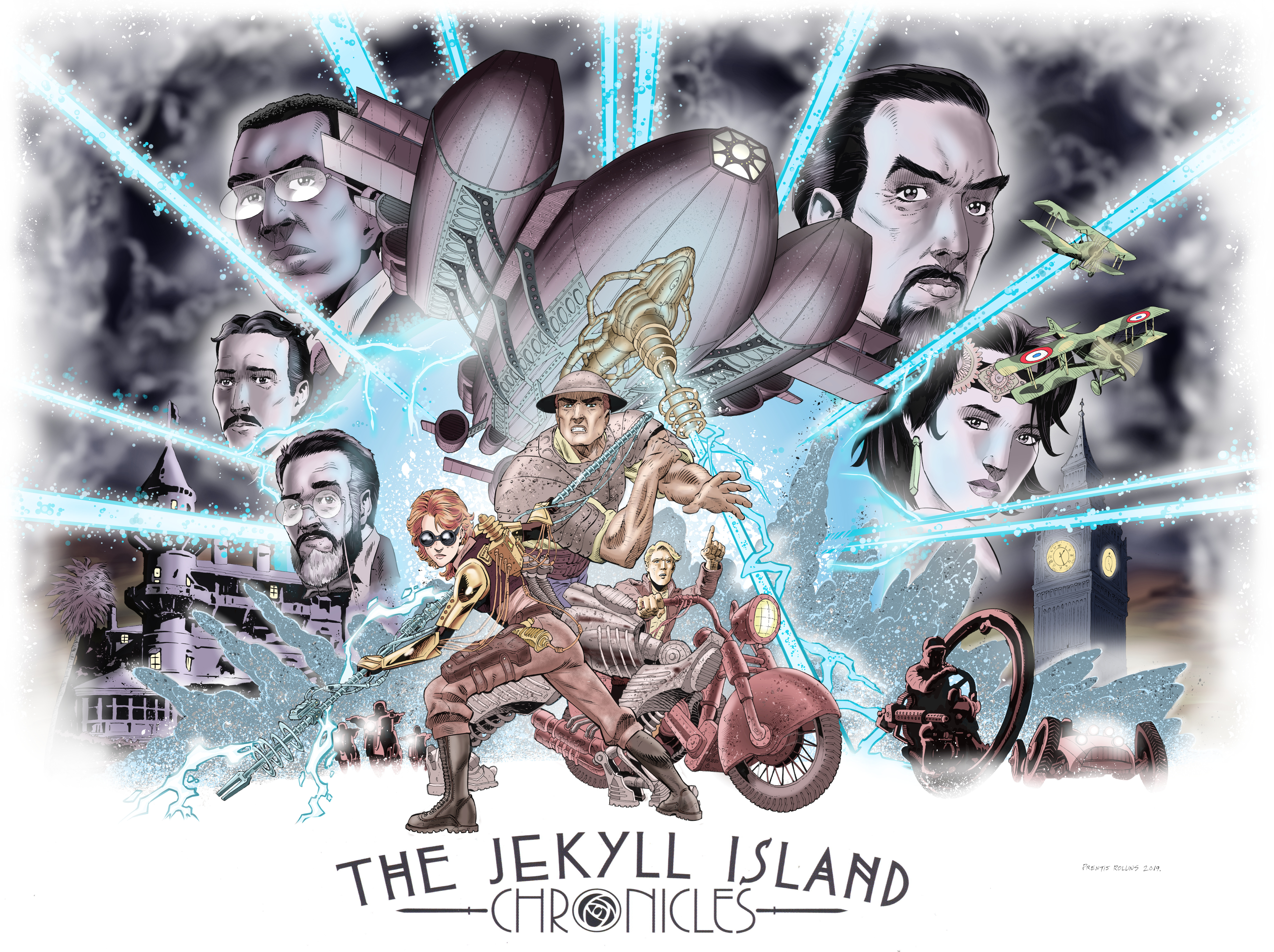 Is Jekyll Island for real?
Indeed it is.
At the beginning of the 1900's, 1/6 of the world's wealth, led by many Captains of Industry, vacationed in and around the tiny Georgia island of Jekyll. They created The Jekyll Island Club (the Federal Reserve was actually born there). Using this place of grandeur and elegance as a backdrop, we developed an alternate history occurring between the World Wars.
It was a time of great convergences. A time of great social, political, and technological upheaval. A time of ingenuity and anarchy. A time for some of the most brilliant, and horrible, minds of the 20th century to confront each other. And a time of great new heroes and incredible new machines.
If you can imagine history and sci-fi mixed together with classic action/adventure, then you've got a good idea of what The Jekyll Island Chronicles are about.
How was the project put together and
what's next

?

In 2012, three long-time friends (Ed, Steve, and Jack) decided to work on a creative project together. While maintaining full-time jobs, they met many nights and hammered out story ideas and details, working tirelessly in Steve's basement to create the basic structure and characters in JIC. You can read more about them in the Creators tab of this website.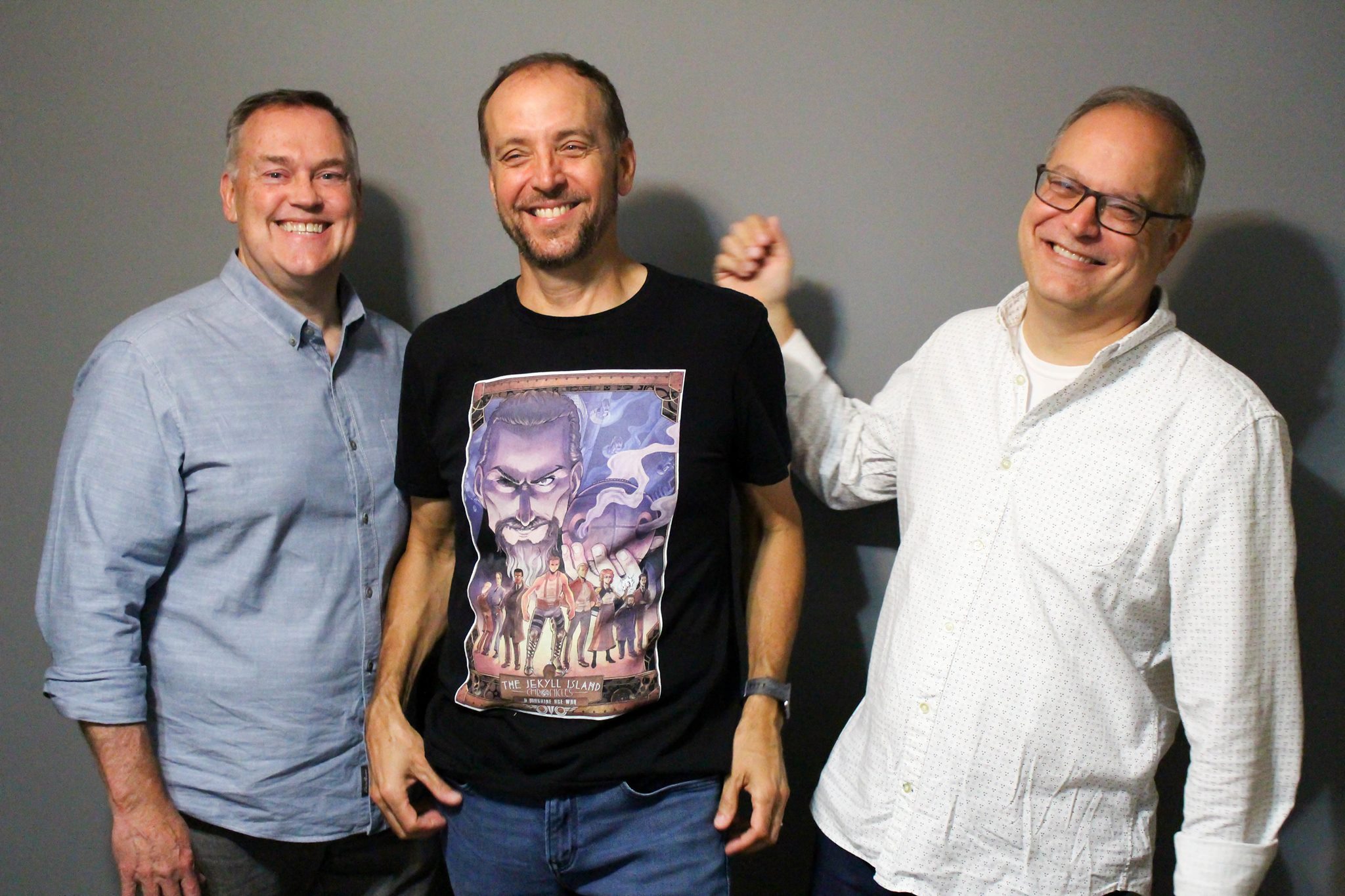 Once ready to move to visualization, they enlisted the help of the Savannah College of Art & Design. SCAD created a special class for our project, and in a one-of-a-kind venture, hand-selected 10 students from the School of Sequential Arts to work with us visualizing our story - sketching, inking and creating concept pages for the series. A pitch packet was created by the students. While the class was working, the creators nailed down the script, fleshed out other characters, and developed the alternate history and the technology of the fantastical world of what is now called The Jekyll Island Chronicles. When the class was completed, the guys ran the idea (and the pitch packet) by Top Shelf Productions (the publisher happened to live only a few miles away).
The next day, the publisher said he was interested, and the rest, as they say, is history!
It was a long road and a hard project to put together, but it was successfully done. A Kickstarter campaign was mounted, cosplay characters fabricated, trips to Comic Con planned and many, many hours of work culminated in this fantastic saga that has been called by Inverse, "An Alternative History Steampunk Treasure." There's a lot different about JIC, including the way the story reads and the visuals are presented. It is very much put together like a grand storyboard to a larger entertainment experience!
This series is proudly presented by the graphic novel/comic book powerhouses of Top Shelf & IDW Publishing. And while The Jekyll Island Chronicles has fans all over the world, including within the film and tv industries, the creators have their hands full trying to finish the trilogy--and their fingers crossed that one day this series will be envisioned, as they had always intended, within other channels.
But we'll have to all wait and see what happens...